Writers leave deep impressions on me with their art. Some people use the very skin of their bodies to honor people, places, or events that marked them. (Babies' names and birth dates, faces of Jesus and Bible verses, animals, zodiac signs or Chinese characters symbolizing who they are or aspire to be…) The tattoos map out where they've been, and things that have built them and influenced them, creating a visible record.
Great books and writers have left marks on me, though others cannot see them. But I'm sure they inevitably leave some evidence in what I write—either in style, content, or structure. And the craziest thing I have to realize is that I may be unaware of some of it—maybe most of it!! I owe so much to other writers.
I've been spending time lately writing queries to agents, and guess what I got stumped on? Comparison titles! That stalled me for some time! But in considering that, it got me thinking about all these writers whose books I've not forgotten and what I learned from them. So, I want to start to honor them and the impact they've made; it's a gift, really.
ANNE LAMOTT
Reading Anne Lamott changed the way I write children. I noticed her gift for this first in her book, Blue Shoe; the young kids in that book are real characters, delineated as carefully as a portrait artist would render them. They're written with such love that the book opened my eyes to having kids in adult books who were not just stock characters—not just objects or props in the lives of the adults to prove that families were made. I think I read that book a decade ago, and it still stands out as a flagship for writing kids.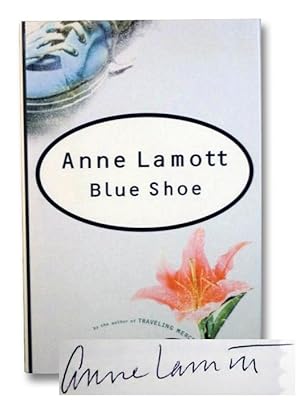 Photo from abebooks.co.uk
Also, many years ago, I saw an interview with actress and children's book author Jamie Lee Curtis who wrote a kids' book entitled, When I was Little: A 4-Year-Old's Memoir of Her Youth. One of my own children said precocious, adult-like things as a little tyke, and it is hilarious—but I can't laugh, even from amusement, because he was very serious! I never read that picture book, but something Curtis said in the TV interview made me see the dignity and veracity in a child looking down the barrel of his/her whole life's existence with authority. Kids are living a life, and they are the experts of their own experience, albeit it short.
When I was writing my first completed novel, I wanted the two kids in my book to be real, to have their own threads in the plot line. (Now, sadly so much of what I carefully wrote ended up being cut for the sake of shaving my mammoth book into something approaching publishable—but that's another story…) But my older one, a girl named Lu who is seven, is complex and has very serious reactions to the events and phenomena in her life. Though she may be a minor character as the niece of a main character, she is much more than a prop, much more than a body in a scene merely holding a place in a family portrait to prove that her mother once gave birth.
But I've taken the challenge to write kids in a way that respects that youth has its own perspective of experiences—whether age three or thirteen. I want my kid characters to seem real because they say things that make you think. I don't want them to say and do things that have them merely pass as realistic as humans. I remember the kids Lamott wrote were quirky and beautifully unique in the way most little kids are: whimsical and idealistic, feeling all their feelings so very intensely. Thanks, Anne! (But really, I could write a few posts about other things she has taught me…)
TRACY CHEVALIER
Next I need to mention Tracy Chevalier and her gift of introducing me to the dual timeline mastered well. Chevalier's novel entitled A Virgin Blue is the first book I either read that was dual-timeline, or at least the first really well-done dual-timeline book that I read. Switching back and forth between a story of a French Huguenot family during the Reformation era in Europe and a modern-day woman vising Europe, Chevalier took me through these two stories in a way that made me more curious about each. I've rarely skimmed or gone ahead in books, but I confess I did on this one, to get to the climax of one storyline! The historical detail was astonishingly vivid, drawing me into the past of a domestic life I can only imagine. I can still feel the cuts and cracks on the raw skin of the characters as they worked the coarse hemp with their hands, hour after hour and day after day, for survival, for their family's cottage industry.
Photo from ebay.com
After reading this book of Chevalier's, I searched for two types of books: 1) anything else written by Chevalier and 2) books with dual timelines and/or two generations of the same family. Chevalier got me hooked on a whole sub-genre in literary fiction. And when I began to write the next novel, I knew I wanted to try that.
And there are so many more writers whose ink left marks on me! I could write a series of posts on them…. Maybe I will….
Other posts:
Finding an Editor: Genre Matters (And sometimes, maybe you just have to do it yourself!)
My Dad, Monsanto and Christmas Trees