Nine. That's how many times I've pitched my novel idea to an agent or acquiring editor. The transition from writing to pitching is really steep; if you're an artist and not a salesman, it's terrifying! I've spent years trying to manage the completion of my novel Still House, and I'm finally (finally!) at the stage of trying to find an agent–someone who believes in my book enough that they will go to lengths to sell it to a publishing house.
Some of my pitches were miserable (both in that I didn't know what I was doing AND that the results were less than desired). But some were met with enthusiasm and a lot of really encouraging comments. Between those two varied types of experiences? 5 years and a lot of learning and practice.
Agents #1, #2 and #3:
My first was the worst. Nearly six years ago, I had my story, but I was struggling to finish the novel before I gave birth to my third child. I was at a conference that was very friendly to new writers and those who were not quite done. Agents and editors were willing to speak with people who weren't done, just to give them practice and guidance. I had NO game. I went in trying to summarize my behemoth of a dual-time plot with as much grace as an elephant on in-line skates. I saw three agents that day.
The response? The first was very no-nonsense. She was from a big publishing house, the most influential of that market, and she had little patience, while being polite, for my pitch. I didn't know enough to know I shouldn't have bothered trying to pitch to her. I had no idea that all the books they published had a very specific view of women's fiction that required my novel to have only one point of view character who must be a woman as well. My 4 POV (point of view) character novel, two of them men–never had chance. Not only was she not interested, but she was not encouraging. She told me not to try to finish such a complicated story with so many main characters; she said a first-time novelist should start with a single point of view character, that's it. Another agent had a similar response.
I had one positive experience that year. One agent was interested and gave me her card for after I finished. She gave me a reading recommendation of another writer who succeeded trying something similarly complicated.
Agents #4 and #5:
So then I had a baby and my project was shelved for a while. But I finally got back at it and attended a smallish conference with agents for multiple markets.  This time I had a practiced, memorized pitch. But it was agonizing, it was complicated–like my plot. I'd sat in a class at that conference, writing and rewriting it, then spent the evening in the hotel practicing and practicing, making it the most stressful conference I'd ever gone to! I met with two agents, with the caveat that I knew I wasn't done because I needed to cut a lot of words to meet industry standards. Both editors were provisionally interested. One said, she'd be interested if I really focused on one storyline over the other.
Agent #6:
A year later, I was going to my biggest conference yet. I had hired an editor that year to help cut the book down. The book was meant to be done before this big conference–my most intimidating one so far. This was serious, this was real. But the editor who thought she'd be done with the book prior, wasn't. She promised it'd be just a few weeks. So I went to pitch my book to a big New York City agent who specialized in debut authors of my genre–with the promise that I'd have the completed manuscript back from an editor in mere weeks.
This time, my pitch was more refined. I managed to get across the two timelines of my story and the main characters. I had my pitch memorized, but worked to make it relaxed, not rattling off words like someone had a gun to my head. The agent and I had a reasonably good conversation–and he wasn't nearly as intimidating as I expected.
The agent was interested and asked me to send first chapters. (Sadly, this modest success was all circumvented by the editor not being done in a few weeks. Long story–and that's an entirely different topic. What ensued was the unable-to-conceive-reality that it'd be another year until I actually would get that manuscript back from an editor, finished!)
Agents #7, #8, #9:
Late spring, I went to another conference, big in my experience. I had two pitch appointments with editors scheduled. And then something perhaps lucky or providential happened the morning of my appointments. I went in to the tail end of breakfast, and the silverware from the tables had all been cleared away. Except one table. One girl was sitting there, and I joined her.
We chatted a bit, and I asked what kind of writing she did. She said, "No, I'm an agent." I thought I knew what all the agents looked like, but she looked somewhat different from her picture, and I really had no inkling. So then she asked what kind of writing I did. And we had a nice, easy few-minutes conversation about literature. I did not try to pitch my book to her right then and there. It didn't feel right.
But I talked about how much effort I'd put into this complex beast of a dual-timeline plot I'd been trying to master and how I'd invested years into trying to figure out how to tell the story I was passionate to tell. In those few minutes, I was impressed with her knowledge of the genre I write in, and she told me other writers and books to check out; she really knew the market.
So later, I check with the person managing all the agent appointments to see if this agent had any openings left. I was given her last appointment of the day.
Which was awesome, because of the three, she turned out to be the most enthusiastic.
All three appointments went very well–the agents met my work with interest. Even the one woman who made grown men nearly cry. (True story; while I awaited my turn, an older man who'd gone before me was visibly shaken as he shared how curt and non-encouraging this particular agent had been. It wasn't the first time I'd heard that either.)
For this pitch, I had a memorized pitch designed to hit all the points–but with one difference compared to ones in the past. I'd learned at a baby shower–of all places–the key to hooking others' interest.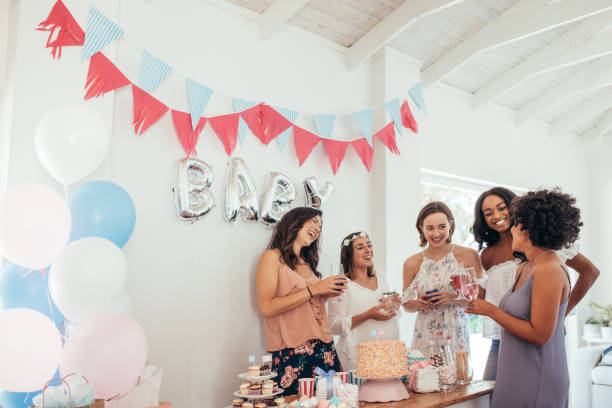 Photo from iStock
Let me be honest, I was still groaning two months prior when anyone asked what me novel was about. Because I struggled with how to succinctly portray it. Over the years, I've tried many angles. I've tried to talk about the two marriages in the book, the two generations of the family, the issue of infidelity, the concept of family secrets… They are all in my book.
But at a baby shower, I was asked by people I'd just met to explain my book. And most of them were considerably younger and in a different stage of life than I, and I learned something interesting as I went to something I knew instinctively to be the best default : I led with the house as the main character. That is my title after all: Still House. The moment I said, "My story is about a house that attracts two different generations of the same family (but neither realize it at first), and the house spills their secrets," the listeners leaned in, saying "oooh."
So that is what I took to lead my pitch.
In the end, two of the three agents asked me to follow up by sending first chapters. And the one who did not was really very helpful and generous, going out of her way to encourage me. Though she was looking for novels that are lighter–more like beach reads–she made a point to tell me she'd read my opening the previous evening, before she knew it was mine, and told me if was the "most compelling" of all the other novel openings presented. She made a point to let me know how polished my writing and professional presentation of myself were. She could have just ended that appointment early and had some down time. But instead, she chatted and offered some tips to help me find the kind of agent I need. Her generosity still astounds me.
The third agent was the one who had a reputation that preceded her. i'd also seen her talk at an agent's panel and she struck me as abrasive. Let's just say I didn't have great expectations when I walked down the few steps and approached her conference table.
So I was surprised when my time with her went well. I didn't experience any of the things I feared. She was, however, quick to suggest big changes to my story–like ones that would require a complete overhaul. Like, "What if you told the story from another character's point of view?" She had quick and strong opinions on a story she'd heard described in one paragraph, and it was a little unsettling.
The two agents who were interested in reading my first chapters were both attentive and inquisitive–really asking insightful questions about the inner working of my plot. I think I succeeded each time to be conversational, and not resorting to the halting words of someone painfully spewing line after line of a planned speech. I finally had gotten comfortable enough in telling my story that I could field questions I'd not prepared without panicking and feeling overwhelmed.  And I left with each of the agents' cards and the specifics on what to send for their next round of consideration.
Through these nine different agents, my pitch and presentation of myself as a writer changed drastically. I think I finally learned the art of a successful pitch.
Onto the next part of the journey!
Other posts:
Writing a Novel in 9 minutes a Day? Is that Possible?
When People Treat Pets Like Babies…
Books My Son Likes: Flora and Ulysses
A Late Reader a Gifted Reader?
Best Advice to Beginning Novelists: Don't Write Chapter 1