I have a middle-grade son who is not a natural reader. Reading is just is not what he'd choose to spend his time doing. He has many interests that compete with reading, so if I find him reading a book when he doesn't have to be doing so for school–well, that's nearly as rare as a swallowtail butterfly in the midst of winter. I take note.
Then, out of the blue, he started asking for books for Christmas or birthday presents. But they were all books he'd already read. So this is the new litmus test: If my son actually liked a book, he wants his own copy to keep handy in the corner of his bed.
Since he does not read on his own for fun, all contenders are books he's had to read for school. (Which means, it's a book I chose, because I'm his teacher.) Almost every single time we begin a book, I give him choices, and every single one of them, I think, are riveting and ones he would enjoy. He usually looks at my carefully chosen gourmet feasts of fiction and acts like I'm offering him doggy kibble,  rotting salad greens and carrot sticks. He chooses the carrot sticks he doesn't particularly like just because they're less disgusting than the other choices. When we've read a few chapters, he shrugs. When I mention it's time to read it again, he groans or sighs. This is his relationship with most books.
Then, one day, we finish that book he sighed about. And at some point, he asks for his own copy (unless its' a book I already own, and I notice my copy is suddenly missing and can be found by his bedside.) He rereads these books for fun, for comfort, to relive things he liked.
The very first one my son wanted to own was Flora and Ulysses by Kate DiCamillo. (I envision I may share a series of posts about the books that have managed to capture my son's interest…)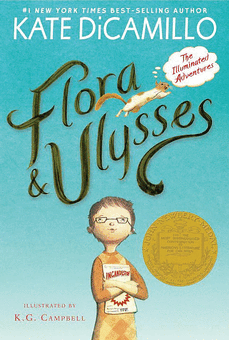 Flora and Ulysses by Kate DiCamillo
Before this book, my 8/9 old had read a few novels, but nothing wowed him. And then, a girl he knew shared how much she loved this book, and her review had him rolling with laughter to imagine a squirrel being sucked up by a vacuum cleaner and thereby garnering superpowers, one of which is to write poetry on a typewriter.
Well, I jumped on that little lighter-flicker of interest, you can bet your booties. I checked it out at the library and then offered it as one of the choices for his next book.
I think he was nearly 9 this time, and though there were pictures in the book, graphic novel style, as parts of chapters, his interest waned in the middle. But he went back to it, finished it, then–knock me over with a feather–asked me to buy him his own copy for his birthday!
And this is how it goes: from dread to "gotta own it."
What he loved about the book:
hilarity. He chuckled and giggled a lot, both from the events and escapades but also from the descriptions. He seemed to appreciate DiCamillo's wordsmithing.
Characters: they were unique and winsome and weird. Curiosity about both the kids and adult characters seemed to draw him in.
My mom thoughts about the book: The vocabulary and concepts were a bit above him. The main character describes herself as a cynic, and my 8-year-old couldn't really grasp that concept very well when he first read it. I think he missed a lot of the sarcasm. (And for that, I was glad; I thought the main character's outlook was a bit stark sometimes for this sensitive child of mine and the moment of development he was in.) But he is 11 now, and he periodically still goes back to that book and re-reads some, laughing more because he understands more depth now.
So what books have your reluctant readers loved? I'm always looking for more? And maybe I'll get around to sharing more that my son loved…
Other posts:
A Late Reader a Gifted Reader?
The Ink They Left On Me: Writers Anne Lamott and Tracy Chevalier
Three Quick, Nutritious Go-To Breakfasts
Personalized Theme Alphabet for Preschool/K