So my son doesn't love to read. Finding books he enjoys is a challenge, so finding those gems makes them worth sharing. The novel Wonder is the second book my middle grade boy loved. And I mean loved, loved, LOVED. Enough to choose to read it in his free time.(The first? Books My Son Likes: Flora and Ulysses.)
Part of the trick of eliciting my kids' interest in something I want them to care about is by being indirect sometimes.
I first checked out the book Wonder by R.J. Palacio for myself. (I no longer remember why.) I was listening to the audiobook in my kitchen as I prepared meals. It engrossed me immediately, and I soon noticed, my son was hanging around the kitchen.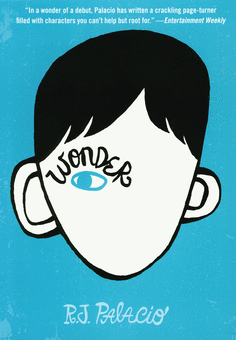 Sometimes I let him listen a bit; other times, I turned it off. By the time I nearly finished the novel, he was moaning in complaint when I turned it off when he entered the room.
This happened the most when the book was talking about Auggie, the main character, and his struggles starting middle school and anything having to do with his facial deformity.
So when I borrowed the book from the library for him, as one of a few choices for him to read, he was eager to devour the book. His interest in this book marked a transition in his reading interests. While his taste in stories (any form–movies, books, audiobooks for fun, etc.) used to revolve around fantasy; suddenly, he was more interested in kids living life in the real world and all the social issues they face.
The second time he asked for a book as a birthday or Christmas gift was for this novel. He wanted his own copy to read again.
That's how good this book is.
Things my son liked about it:
The description of a homeschooled kid starting middle school. As a homeschooled kid himself, he has a lot of curiosity of that process
Stories about overcoming bullies seem to hit their mark with him.
He loved the dialog, especially the humor and the banter between characters. He went around the house repeating parts he liked.
Auggie's and the family's struggles seized his compassion; he has always been sensitive and compassionate (qualities I prayed for for him when he was in the womb), and reading books like this make him eve more empathetic.
Sections told from different characters' points of view caught his attention, and he enjoyed the technique.
The feel-good ending of Auggie's triumph socially is the pay out my son loves to see in stories.
Things I liked about it:
The message was excellent and excellently portrayed. It addresses so many important issues of kid life and life in general.
I loved that the focus was not just on the kid characters; point of view chapters from the parents and older sister and her friends give voice to something our homeschool aims at too: that the only important people in life are not just you and your peers. People of all ages are valuable, to be taken seriously.
Characters were entirely relatable and likable.
In a world of literature where most main characters are kids with missing, estranged or negative parents, this book showed an awesome, loving family that wasn't cookie cutter or generic. The depth of feeling they had for each other was revealed so realistically and made an impression on me. If I ever write middle grade or YA fiction, I hope to be ale to portray a family so well.
As for my son, he received the movie adaptation of this book for Christmas, which he loved, and it drove him right back to reading the book again. As always, the movie left out so many parts he liked!
Other posts:
Books My Son Likes: Flora and Ulysses
A Late Reader a Gifted Reader?
Review: Phonics Museum Reading Program
Review: Phonics Museum Reading Program
The Ink They Left On Me: Writers Anne Lamott and Tracy Chevalier